by Angelo Vargas | www.krgv.com

EDINBURG – Edinburg police found that a cyclist who was hit by a school bus was at fault.
The accident happened near Joe Ochoa Drive and 107 last month right in front of the University of Texas Rio Grande Valley.
Edinburg police said the cyclist failed to properly cross the intersection. Police said the South Texas ISD School had the right of way. A total of seven students were on the bus at the time. The cyclist was hospitalized. Police said she will be cited.
Thousands of UTRGV students use the same intersection every day. …
---
Felicia Frazar | seguingazette.com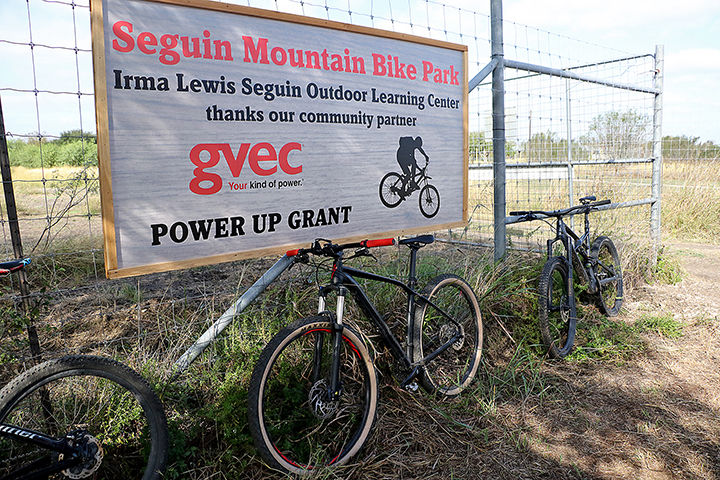 Mountain bike enthusiast looking to better their game, or children wanting to learn have a new place to practice.
On Saturday, the Irma Lewis Seguin Outdoor Learning Center officially opened the Seguin Mountain Bike Skills Park.
"The vision for this bike course started about 25 years ago with Irma Lewis," Chief Juvenile Probation Officer Ron Quiros said. "It really is designed for kids so they …
---
---
By Fares Sabawi | www.mysanantonio.com

Two burglary suspects ran over a police officer's bicycle while trying to flee in downtown San Antonio Tuesday afternoon, officials said.
The officer wasn't injured but the bike appeared partially jammed underneath the vehicle.
Both suspects were detained. …
---
---
by Philip Gonzales | setexasrecord.com
BEAUMONT – A Beaumont man is seeking damages after an alleged dog attack in the city.
Earl Pittman filed a complaint on Oct. 13 in the Jefferson County District Court against Dickie Rawls and Valerie Rawls
According to the complaint, the plaintiff alleges that on Nov. 15, 2015, he was riding a bicycle on Rose Lane in Beaumont when defendants' unleashed dog chased and attacked him and in the process caused the …
---
By FERNANDO DEL VALLE | www.valleymorningstar.com
RAYMONDVILLE — Police had made no arrests yesterday in the investigation into a hit-and-run accident that critically injured a cyclist.
Meanwhile, victim Ruben Serna, believed to be 56 years old, is expected to survive after the suspect's vehicle hit him as he rode a bicycle Saturday morning, City Manager Eleazar Garcia said yesterday.
But Serna remained in critical condition at Valley Baptist Medical Center, Terri Retana, the hospital's …
---
Texas Bicycling from Twitter
11/24 FREE Game day BIKE VALET parking! NO lock needed @ 23rd and Trinity, North EndZone #HookEm 🤘🏽🚴🏻‍♀️🚴🏽🏈 #RIDESAFE pic.twitter.com/WYzCijmTcd

— Bike UT (@bikeut) November 21, 2017
ATTENTION! Black Friday has been cancelled again. Let's ride our bikes instead this Friday at 7pm. Be there! @MassHouston @BikeHouston pic.twitter.com/ioKenLAq7u

— CriticalMass Houston (@HoustonCM) November 21, 2017
STOLEN – Black Trek FX 2 in West Campus https://t.co/3MuSpRnHyM pic.twitter.com/krNZcGLG6r

— BikeIndex Austin (@stolenbikesatx) November 21, 2017
Meet our latest Commute Hero, Heather! https://t.co/JkDIm10QBR

— Movability Austin (@Movability) November 21, 2017
Come join EP Cyclists for the Thanksgiving Crash the Parade Ride
Meeting Time: 8:00am Sharp
Album Park
One easy… https://t.co/HMxJlJC6zh

— EP Cyclists (@EPCyclists) November 21, 2017