Today I rode the "FM1960 to FM686 – Back" route. The weather was hot (97 at my home weather station) and the wind was from the SSE at 13 mph under a mostly cloudy sky. With the wind it didn't feel that hot probably because the humidity was 52% instead of the 70%+ for the last several days. That didn't keep me from perspiring though. When I stopped at the Dayton Food and Fuel store at FM686 (the turn around point) that short period (2 or 3 minutes) was enough for the sweat to pour from my arms. Once I was back riding again it dried up some until I stopped for a longer break at the Huffman Chevron.
This route is the nearest to a hill workout around here. Riding up the railroad overpass twice provides a long range view of the flat farmland. It also exposes you to the wind being 50 to 60 feet higher in the air. The hill is about 5 miles east of FM2100 in Huffman and about 2 miles east of FM686. Before the overpass was built several people were killed over the years colliding with trains. The road did not cross the tracks straight and people ignored or raced to beat the crossing arms.
While I took a 30 minute break at the Chevron I sat under the gas pump canopy with the breeze slowly cooling me down and drying my wet jersey and shorts. The Greensheet newspaper was soaked when I stood up to leave. The paper towels I rested my arms on were soaked as well. The cold Powerade was refreshing while I ate my Kashi Trail Mix Bar and whole grain apple cinnamon bar. When I stopped I was at the 29.6 mile point of what would end up being a 41.38 mile long ride. Today was the 7th time biking this route this year. Here is a summary of the rides.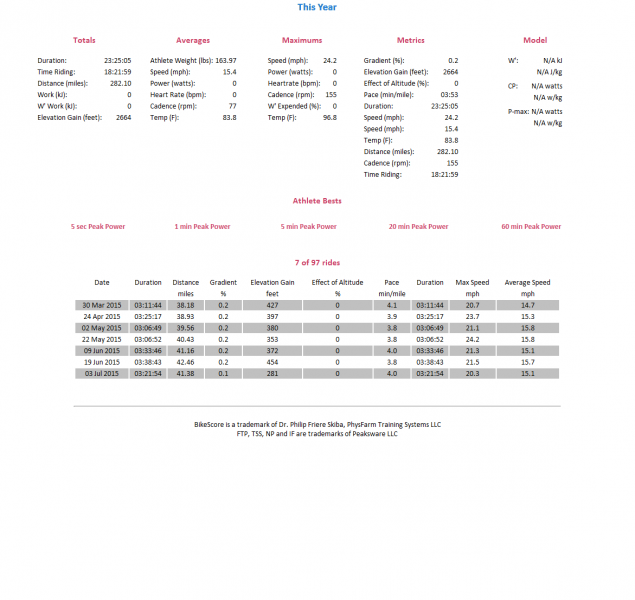 Since I was biking at a 90 degree angle to the wind direction most of the time my average speed built up to 15.3 mph by the time I got to the Chevron station. It dropped while I took the break but I moved it back up until the 38 mile point where the Kingwood streets and traffic start slowing me down. I ended up averaging 15.0 mph.
With today's ride I biked 105 miles this month. My goal is 834 miles so this is a good start. Tomorrow is Independence Day and I will probably take the day off from biking going to the Kingwood parade, watch the Tour de France, rest and eat.