Inmates at Richmond's Vance Unit giving back by restoring bikes for children
by Larry Seward / KHOU 11 News

RICHMOND, Texas – A group of inmates at the Carol S. Vance Unit are on the road to redemption, by doing something for special children this holiday season.
They are restoring bicycles for kids who otherwise wouldn't be able to get one for Christmas.
The inmates are fixing everything from brakes to rusty chains – making sure all 900 bicycles work just right.
"Pretty soon they're gonna be having wings I think…," Jimmy St. John, an inmate, said.
It's like Santa's workshop in prison.
"I took away from my community for so long… doing things that I did. And…
---
Ask The Readers: Must Have Tools For The Home Bike Shop
www.texasmountainbiketrails.com
After riding  pretty much everyone starts to acquire repair equipment for their own home-based shop.
What are some of the MUST-HAVE tools that you keep in your tool kit?
---
Race Preview – Tough CX – Dec. 14-15, 2013
joeyTWOwheels        texascx.com
Tough CX is an apropos name, because dang is it tough. This course became an instant #TXCX classic when it appeared two years ago and we've enjoyed (suffered through) a season opener and states there just last year.
Bryan Fawley, course logistics coordinator for the Texas Cross Syndicate, explains it like this:
Make your way to the most authentic place for CX in Texas, the German hamlet of Fredericksburg.
The course is a classic because it has something for everyone – a long stretch of uphill pavement, fast tree lined sections, sand, big run up, and great view for the spectators. You can see entire course from…
---
December 14th & 15th Rides
Steiner Ranch Cycling Club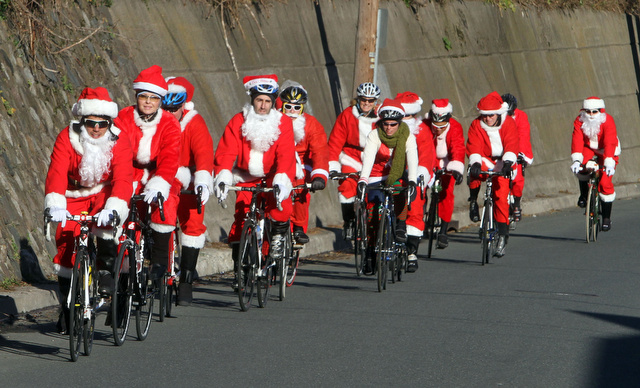 RECAP LAST WEEKEND
Saturday ride was cancelled due to wet roads, rain and frigid temperatures.
Sunday no one showed up except Dustin and I and we ended up running because it was below freezing.
The forecast looks like it will be Sunny with lows in the mid 30's and highs in the 50's.  I would expect it will be in the high 30's when we start and low 40's when we finish the ride.  So dress accordingly.  Wear layers, ear protection, gloves, long legs and shoe covers.  It will be cold but there really is no other reason why…
---
Good things….bad things
Borderland Mountain Bike Association
For those of you who have been wondering what the mountain bike club is up to, let me fill you in.
First the GOOD:
The BMBA is in the process of becoming an IMBA Chapter.  What does that mean?  First, it means that club officers don't need to continue to fumble with memberships, renewals, and donations.  All membership management will be performed by IMBA.  Anyone  in our area who joins IMBA via the IMBA website will automatically become a BMBA member.  We will all pay a bit more to become members, but we are now members of both.  The club receives the same amount as we would have when we charged $10 for a membership.  All donations made to the BMBA will first go to IMBA as a non-profit 501c3 donation and will be redistributed to our account at no financial loss to the club.  We are now part of a larger group who has worked tirelessly for many years to improve mountain biking around the world.  Some may not agree with everything IMBA does, but you can't find a larger…
---
Death of cyclist galvanizes biking community
Hundreds of riders to converge on the area to press authorities to enforce rules of the road
Excerpted from the Houston Chronicle
By Dane Schiller
They call it the "ghost bike." It is painted completely white, even the tires, and chained to a street post in Montrose.
The shrine near West Gray and Waugh marks where cyclist Chelsea Norman was hit 10 days ago by a motorist and later died of her injuries.
There are no known witnesses. The driver fled. Exactly what happened…
---
Bike Austin and Austin Cycling Assoc. to merge?!
bicycleaustin.info
http://bikeaustin.org/2013/11/special-b … n-members/
The merged group would likely be called "Bike Austin", which is curious since I assume ACA's membership is much larger.  (I was also hoping that they'd abandon the name "Bike Austin" since it's so close to the name of this website that I've been using for years prior to their formation.)
The biggest problem I see is that Bike Austin is a 501(c)4 which means they can do political lobbying (which they should), while ACA is 501(c)3 and can't.  So either the new group is 501(c)4 and all the…
---
Hamby – 12-10-2013 Update
Longview Bicycle Club
Current Trail Maintenance Needs:
Trim A Loop
Trim B Loop
Trim C Loop
Replace rotten boards on A Bridge across big creek
---
New Events Added to Texbiker.net Calendar
New Event: 2014 superdrome Speed Race #1 – Frisco, TX: When: Sat Apr 5, 2014 8am to 1pm  CDTWho: Texas Bicycli… http://t.co/27cS8YEZdx

— Rick Ankrum (@texbiker) December 12, 2013
New Event: 2014 Superdrome Speed Race #3 Frisco, TX: When: Sun Jun 1, 2014 9am to 1pm  CDTWho: Texas Bicyclin… http://t.co/Fp9fZaW4ZY

— Rick Ankrum (@texbiker) December 12, 2013
New Event: 2014 Superdrome Speed Race #4 – Frisco, TX: When: Sun Jul 13, 2014 9am to 1pm  CDTWho: Texas Bicyc… http://t.co/rYYvB9pdWI

— Rick Ankrum (@texbiker) December 12, 2013
===========================================
Tweets
Photos: Houston cyclists push safety after hit-and-run death http://t.co/4VIWau4bAI

— Chron Breaking News (@ChronBreaking) December 12, 2013
RIP Chelsea. This ride its for you. pic.twitter.com/UqiLEVwx7W

— Houston CriticalMass (@HoustonCm) December 12, 2013
Cycling community coming together! pic.twitter.com/Z7QhITgyzb

— Houston CriticalMass (@HoustonCm) December 12, 2013
Heard on @KUT: "I take my bike everywhere…. Austin is pretty much my favorite place to ride." – @AndrewBird http://t.co/P4lToA96n8

— Bike Austin (@bikeaustin) December 12, 2013
Newsletter: A better bicycling Austin is a team effort (Action Alert enclosed) http://t.co/OKLEKF5Z2a

— Bike Austin (@bikeaustin) December 11, 2013
"Strava CEO to step down" This is so sad. Prayers for their family. #cycling http://t.co/i7OJfnkDvd

— Texas MTB Trails (@TexasMTBtrails) December 11, 2013
#ToughCX race preview is live. Come get you some. #TXCX http://t.co/wG8SNlMN7m One of the best weekends all year.

— Texas Cyclocross (@TexasCX) December 11, 2013
Death of cyclist galvanizes biking community http://t.co/70TSmIxMKR

— BikeTexas (@BikeTexas) December 11, 2013
So if I can make it I will, Britton's Jungle Bell Bicycle ride will be Dec.17.,Office Depot,8510 Fourwinds Drive Windcrest,Texas,

— jerald roll (@grandpajerald) December 11, 2013
I posted a new photo to Facebook http://t.co/rGdFGOqifB

— Dirt Derby (@DirtDerby) December 11, 2013