I decided to take some Advil when I got up this morning as a result of yesterday's 41+ mile ride. I needed just 24 miles to reach 100 for the shortened riding week so I picked a northerly route: "Oakhurst – Valley Ranch". This totaled 29.6 miles bring the week to 106.23 miles. My legs were sore and the north wind (7 mph) did not help when I increased my speed i trying to move my average speed to 15.0 mph. I did improve the average speed to 15.3 mph and held it until I was nearing home in Kingwood where I slowed down to cool down some. Once I was warmed up my leg muscle soreness went away and I could ride at 18 to 20 mph unless the wind was in my face. Then I dropped down to 16 to 17 mph.
Speaking of cooling down, it was a few degrees cooler than I prefer but still many degrees above my lower limit. It was 74 when I left home at 12:36 and 83 when I returned at 2:37. The problem was riding through shade areas. There the wind lowered my comfort and made wonder if I should have worn a long sleeve jersey. After 6 or 7 miles I moved out of the shady areas and also warmed up from pushing the pedals to not notice the chill.
Its been three weeks or so since I rode this direction but I wasn't close enough to check on the Grand Parkway overpass construction on FM1314. I suspect it is still moving slowly. One think I did see was low gasoline prices. While on our trip the lowest price we paid was $1.869 per gallon. I saw $1.839 in Porter when I was riding south from Valley Ranch on the US59 service road. The Stripes station west of Porter on FM1314 showed $1.829 but that required a Sunoco card.
No other bikers on the route today. I didn't take a rest break so no weather screenshots. This is the weather at home at the end of the ride. 42% humidity meant not much sweat and I did not wear wrist bands.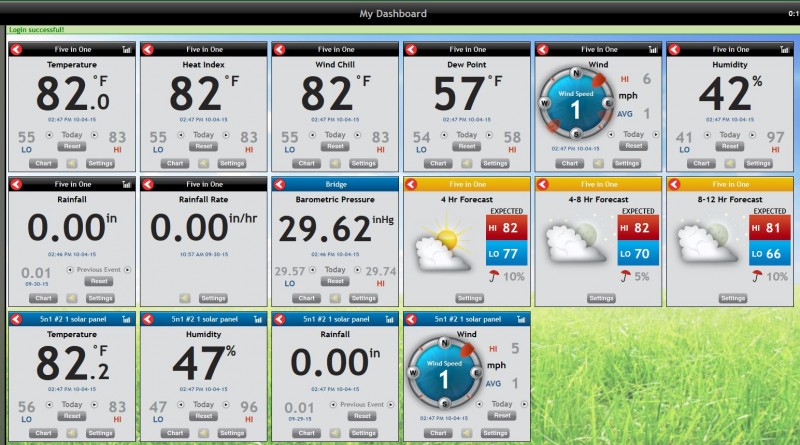 This is the third time I rode this route in 2015.
| | | | | | | | | | |
| --- | --- | --- | --- | --- | --- | --- | --- | --- | --- |
| Activity Name | Activity Type | Start | Time | Distance | Elevation Gain | Avg Speed(Avg Pace) | Max Speed(Best Pace) | Calories | Total Strokes |
| Oakhurst – Valley Ranch | Cycling | Sun, Oct 4, 2015 12:36 PM | 1:57:59 | 29.6 | 184 | 15.1 | 21.4 | 1388 | 7528 |
| Oakhurst – Valley Ranch | Cycling | Sun, Sep 13, 2015 12:05 PM | 1:56:56 | 28.51 | 554 | 14.6 | 20.7 | 1568 | 7702 |
| Oakhurst – Valley Ranch | Cycling | Sun, Jan 18, 2015 11:43 AM | 1:43:20 | 25.25 | 351 | 14.7 | 20 | 1344 | 6943 |