Tour de Longneques
July 28th
Tour de Longneques will depart Castell, TX for a ride to the courthouse square in Llano and return to Castell.  The distance is 36 miles plus a few hundred yards. Meet-up at The Castell General Store.   Wheels rolling at 0800.  This is a militantly not (as opposed to dis) organized ride.  There will be at least one SAG vehicle and bottled water and "facilities" are available at several capitalistic enterprises operating around the square.
As usual, there will be a post-ride ceremonial soak in the healing rapids of the Llano River in Castell, The Castell General Store will be serving BBQ and Lone Star Longnecks will be available at low event prices.  Various furriner beers are also usually available but at less attractive prices (besides, a Lone Star Longneck is de riguer after the completing The Tour.  Don't forget to come prepared for the soak in the Llano River!
In past TdL happenings the SAG vehicles were available to get…
Chaparral Trail/NorthEast Texas Trail – RIDE OPPORTUNITY!!!! – AUGUST 10TH!
by jlynnbob            www.bikeforums.net
Folks, you may have seen my post recently about my adventure exploring the Chaparral Trail between Farmersville and Paris. If not, but you have heard about the Chaparral Trail and have thought… maybe someday I'll go out there and check it out… Well, SOMEDAY HAS COME! Take a look at the…
Goodbye Cycle Thursday Evening Ride
rain or shine @ 6pm.
We ride a 25 to 30 mile loop at a pretty quick pace but we do not leave anyone behind. Typically we have two groups, a faster group and a slower group. It's a great way to connect with local cyclists. One of the reasons we do it on thursday is so people can find riding partners for bigger rides during the weekend.
New Law — Now What?
Alliance for Biking & Walking: People Powered Blog
New Realities, Challenges and Opportunities of the Federal Transportation Law
There is a lot of bad news for biking and walking advocates in MAP-21. Coordinating closely with many and diverse partners, we worked very hard to maintain the already disproportionately low funding dedicated for biking and walking and get some key policy reforms. The conference negotiation process resulted in a transportation law that is several steps back rather than forward.
Looking back over all our efforts the past four years, it is easy to ask "What if … ?" but MAP-21 passed because it was so craftily packaged that even…
No Country for Old Men Ultra Bicycle Race
by Darryl            lovingthebike.com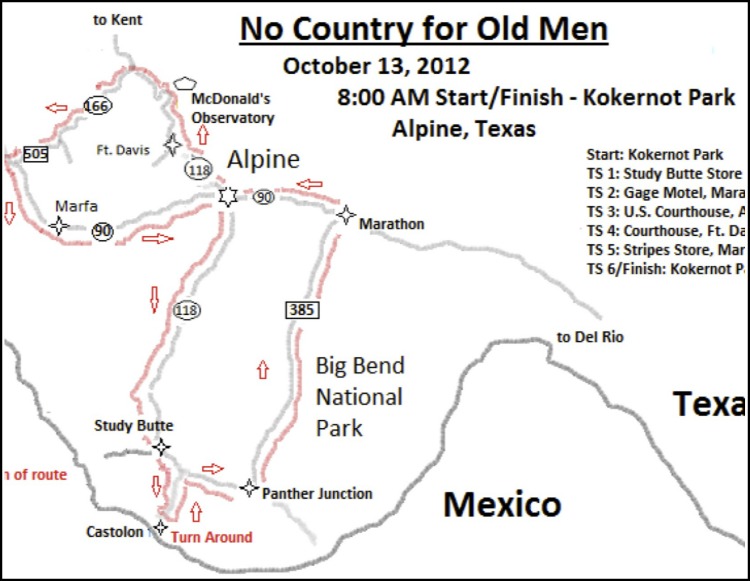 Dex Tooke is one wild man ultra endurance cyclist, and now he's putting on his own challenge to bring out other ultra cycling maniacs to join him.  You might remember Dex from a post we did that featured him a while back.  He has taken on the Race Across America (RAAM) a few times now and last year he became the sixth rider over 60 years of age to complete the event.  Dex is also the rider featured in what I consider to be one of the most beautiful cycling photos in the world.  Have a look a…
Owens Trail Closure July 23 to July 27
by bergerandfries        Bike Friendly Richardson
FYI, Owens Trail will be closed July 23 to July 27 for repairs. The gate across the creek bridge will be closed and locked. Dan Baker at the city says, "We are anticipating the repairs to take 5 days leaving that section of the trail closed Monday – Friday of next week (July 23 – 27). There is an issue with the concrete panel that abuts…
Bike Ride in Texas 7.15.12 Nutria & Road Upkeep in the sticks.
by sbegot
On today's bike ride in addition to the hundreds of deer I always see but can never seem to get on video….I saw nutria in a pond and show off the newly re-surfaced road and views of Texas after the rains that fell today. It was cool…
Walking The Gateway Park Mountain Bike Trail Finding Tasty California Peaches
by Durango Texas
For my mid-day doctor prescribed daily constitutional today I went to Gateway Park to walk, not bike, the Gateway Park Mountain Bike Trail.


When you walk a trail that you've previously biked, it looks way different on two feet than two wheels, because when you are on two wheels you have…
GREAT interview with @raceclub11 rider @chloewoodruff on http://t.co/p6NobdA8 http://t.co/mZRfSnsd

— crankbrothers (@crankbrothers) July 19, 2012
Join us & Super Squadra rider & @BicyclingMag contrib author @iandille on 8/1 to celebrate his book "The Price of Gold" http://t.co/JoS58LEh

— Bicycle Sport Shop (@BSS_Austin) July 19, 2012
RT from @BikeTexas:TxDOT Rural Transportation Plan Adopted-Input at over a dozen TxDOT meetings from BikeTexas board… http://t.co/iNx2uNxC

— B&B Bicycles (@BBBicycles) July 19, 2012
GR8 Pure Austin Fitness Driveway line up unite! Betty Chang, Realtor, Boundless Nutrition, Mellow Johnny's Bike… http://t.co/a3qXrJBE

— Driveway Crit Series (@DrivewaySeries) July 19, 2012
News Update: TxDOT Rural Transportation Plan Adopted – Input at over a dozen TxDOT meetings from BikeTexas board mem… http://t.co/0F2GuCYV

— BikeTexas (@BikeTexas) July 19, 2012
Wanna race free at the Pure Austin Fitness Driveway Series? Check out this video and learn how with Dr. Ueckert -… http://t.co/2QxPC7uh

— Driveway Crit Series (@DrivewaySeries) July 19, 2012
Special thanks to LSG Sky Chefs in Seattle for allowing us to present them our program and for their facility tour pic.twitter.com/YjuVpEMg

— Texas 4000 (@Texas4000) July 19, 2012
DAY 48: #Rockies riders pedaling toward Telkwa, BC.

— Texas 4000 (@Texas4000) July 19, 2012
A great photo from @AustinCycling's Beyond #Bike Lanes mtg earlier this week. Thanks Social Cycling Austin for sharing! pic.twitter.com/EYnN1o5d

— Bicycle Sport Shop (@BSS_Austin) July 19, 2012
Hey #Denton! We just posted a how-to video on our website. Would it help if we started posting videos like these… http://t.co/q6MnCeMN

— Querencia Bike Shop (@QuerenciaDenton) July 20, 2012