Rad Reportage: 2014 Texas Cyclocross State Championships Photo Gallery
prollyisnotprobably.com

---
Ride for Reading El Paso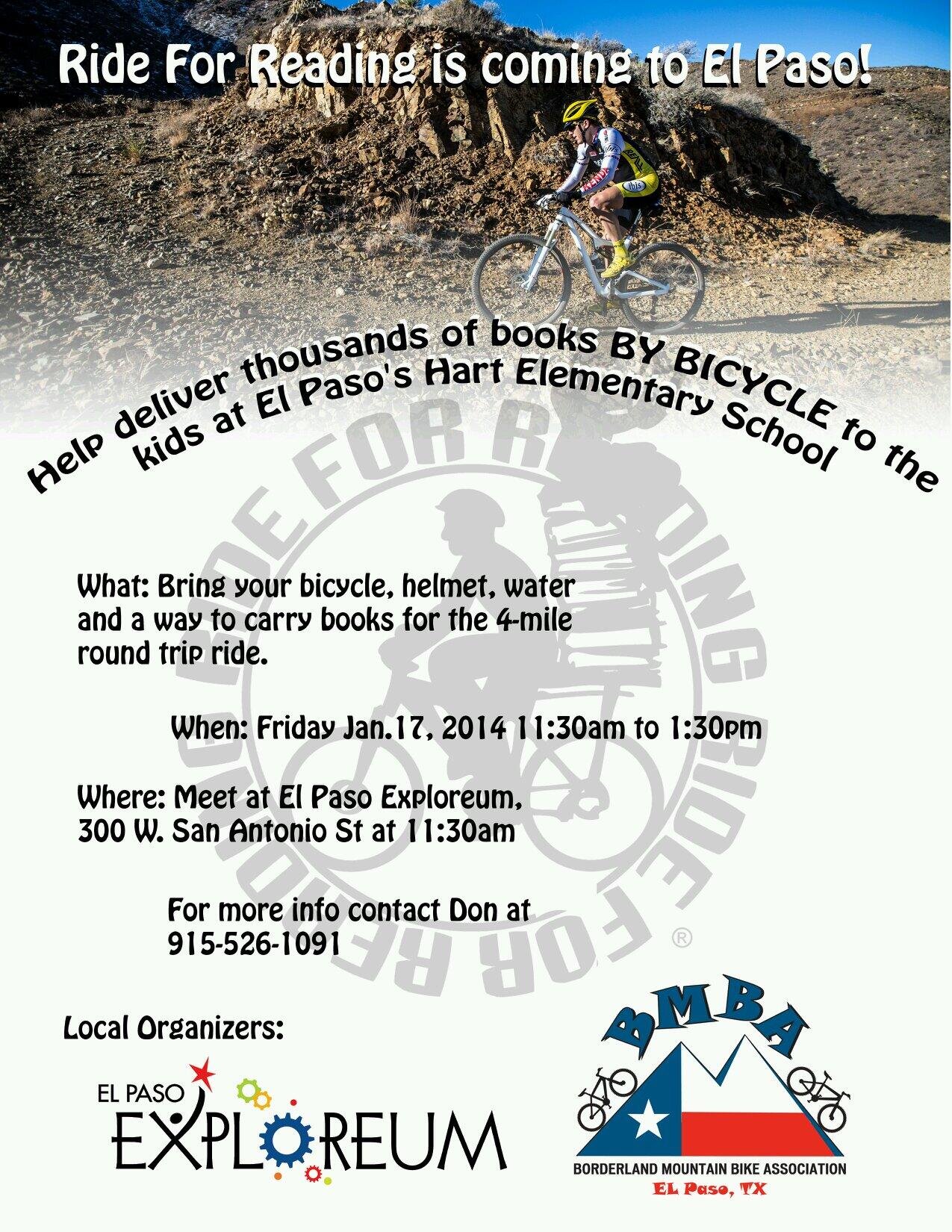 ---
Fronteras 330: Bicycling in the Southwest – Foster & Pearson
KRWGnews
Fronteras: A Changing America (Ep. 330) Monica Ortiz Uribe has a discussion with Bennet Foster, President of Velo Paso and George Pearson, League Cycling Instructor #2614 about bicycle safety and future plans to make the area more bike friendly. More information about…
---
Houston Ghost Bikes
www.criticalmasshouston.com
The Houston Ghost Bike Facebook page is about keeping track of all cyclist who has passed away from car related incidents, poor streets related incidents, & crime related incidents against cyclist.
The page will keep track of cyclists death, names, location, news article, vigil events, court trial dates, and…

---
San Antonio Cycling Club Ride Schedule
12

9:00 AM – 12:00 PM:
Lonesome Oak Ride, 26 or 33 miles

13

14

9:00 AM – 11:30 AM:
Leon Creek Trails, Mainland Trail Head

15

4:30 PM – 7:00 PM:
Port SA Afternoon Ride

16

9:00 AM – 11:30 AM:
Leon Creek Trails, Mainland Trail Head

17

9:00 AM – 12:30 PM:
The Amigos Ride
---
Texas student taking summer bike ride
krvn.com


Picture Cutline: (l to r) Bill Wallace, Ashley Wallace, Louise Dannehl, Jerry Dannehl.
Ashley Wallace, of Austin, Texas will be going on a cancer bike ride this summer called the Texas 4000.
Her father is Bill Wallace, who is from Lexington. He is the brother of cancer patient Louise Dannehl.
Ashley Wallace says the Texas 4000 is a bike ride from Texas to Alaska.
"So Texas 4000 is the longest charity bike ride in the world. It's twice the length of the Tour De France. And it's about 90 students from the University of Texas at Austin riding their bikes from Austin, Texas to Anchorage, Alaska to raise…
---
Bayou City Outdoors
www.wheelbrothers.com


Date: January 25, 2014
Event: Bayou City Outdoors
About the Ride: This is a very social ride (we chat a lot) and all levels of riders are welcome. We will start the morning off with a leisurely coffee at Onion Creek and then cruise through 2-3 markets to shop for fresh produce, sauces, jams, and bread. This is a 12-15 mile ride that lasts about three hours so bring plenty of water and a backpack to carry your goodies!
Plan on sticking around after the ride to enjoy lunch at Onion Creek Cafe.  They are a locally owned eatery and one of the first of it's kind.  Good food, good brews and…
---
City of McAllen Arbor Day Challenge
www.wheelbrothers.com


Date: January 25, 2014
Event: City of McAllen Arbor Day Challenge
About the Ride: This past year, the City of McAllen, Keep McAllen Beautiful, and Texas Forestry Service organized our first annual Arbor Day Challenge.  This year, we teamed up again to bring you an exciting, family-friendly event that will play an important role in "planting" the future for trees in our city.
This coming year, on January 25th, 2014, Keep McAllen Beautiful will be hosting the second annual Arbor Day Challenge.  We invite you to come out and participate with the rest of your community!  Get active, celebrate trees, and…
---
Bike crash temporarily sidelines Fit City
www.austin360.com


By Pam LeBlanc
I'm really bad at sitting still. Which means, of course, that I'm really bad at injuries.
Saturday, I was riding my new dual suspension mountain bike at the Slaughter Creek Trail with my husband and some friends when I hit a patch of jagged limestone and got slammed to the ground. Just like that my right leg and arm looked like I'd gotten into a wrestling match with a dozen angry house cats.
The fall won me a trip to the minor emergency center, where the doctor ordered…
---
New Events Added to Texbiker.net Calendar
New Event: Iron Haus Time Trial Series (March Time Trial) – Castroville, TX: When: Sat Mar 1, 2014 8am to 11am… http://t.co/7ZiNtp0DiD

— Rick Ankrum (@texbiker) January 6, 2014
New Event: 8th Annual Jesuit Ranger Roundup – Celina, TX: When: Sun Mar 9, 2014 8am to 3:30pm  CDTWho: Texas B… http://t.co/v3kqWag8xA

— Rick Ankrum (@texbiker) January 6, 2014
New Event: Iron Haus Time Trial Series (April Time Trial) – Castroville, TX: When: Sat Apr 5, 2014 8am to 11am… http://t.co/KIpPESB3B1

— Rick Ankrum (@texbiker) January 6, 2014
===========================================
Tweets
Brad gives us the low down on his Kirklee Bicycles offerings. https://t.co/wYWxyLKs1o

— Texas Custom Bicycle (@BikeShowTexas) January 7, 2014
Help @RichBikeMart employee https://t.co/Qvjcsjme7W

— Ted Arnold (@Ted_Arnold) January 7, 2014
Valentines Weekend in #Texas #BigBend, Chihuahuan Desert Bike Fest, ride the EPIC trail. http://t.co/7QEkIF6ulK

— Beth Nobles (@trailgirl) January 7, 2014
Join runners and cyclists for the Arbor Day Celebration Sat. Jan. 25th at McAllen Municipal Park http://t.co/yr0dywp8zI

— City of McAllen, TX (@CityofMcAllen) January 6, 2014
New Event: Iron Haus Time Trial Series (April Time Trial) – Castroville, TX: When: Sat Apr 5, 2014 8am to 11am… http://t.co/KIpPESB3B1

— Rick Ankrum (@texbiker) January 6, 2014
.@johnprolly photo. One of my favs from #txcx states. http://t.co/aizzIXSxFE

— Brian Leib (@brianleib) January 6, 2014
— VeloPaso (@velopaso) January 6, 2014
Your women's 50+ #TXCX state championship podium! http://t.co/V55UAKaqhZ

— BSS CX Club (@BSSCX) January 6, 2014
Congrats @TonyBaca28 and alumni @stefanrothe and Michael Lalla. 2014 is going to be a fast year in #Texas. https://t.co/NQDBp0O2yI

— MSU Cycling Team (@MSUCyclingTeam) January 6, 2014
Gravel is back this weekend! 50 mile fun ride DOES NOT need a license all others do. This is rain or shine but… http://t.co/wzXRGE5hUK

— The Spinistry (@Spinistry) January 6, 2014
Congratulations to @bsscx! Second place in the overall Texas Cup cyclocross team standings for this… http://t.co/bBPnS5AUSO

— Bicycle Sport Shop (@BSS_Austin) January 6, 2014
Second year, second place overall cyclocross team again! Great effort this season everyone! #TXCX http://t.co/Geub0qkv0t

— BSS CX Club (@BSSCX) January 6, 2014
Here's what happened when I tested the new B-cycle system in Austin last week… Fit City… http://t.co/UTFAumd55G

— Pam LeBlanc (@fitcityleblanc) January 6, 2014
How about 1 win, 4 podiums, and a couple top 10 rides at the #TXCX age-based State Championships!?! Nice job, team!

— BSS CX Club (@BSSCX) January 6, 2014
Avoid Being Hit by a Vehicle While Cycling http://t.co/fMt3BOefCa #Lifestyle #Podcast

— Cycling360 (@Cycling360) January 6, 2014
Made it to every #TXCX race this season. Learned a lot. Had a great time. Next week, nationals. http://t.co/rWNS4TGbQt

— Daniel Curtin (@danielcurtin) January 6, 2014